John Phillips, PhD
University of Utah School of Medicine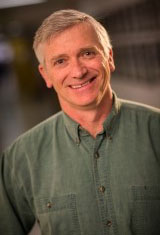 John Phillips went to the University of New Hampshire (UHN) to pursue a career in veterinary medicine and graduated from UNH in 1983 with a Bachelor of Science degree in animal science. He then moved to Hanover, NH and worked as a laboratory technician in an immunology laboratory at Dartmouth Medical School. While working in the laboratory John also moonlighted at a startup brewery, Catamount Brewing, White River Junction, VT, as the Director of Quality Control. He was admitted into the Biochemistry Graduate program at Dartmouth Medical School where he worked on electron transfer with Dr. Bernard Trumpower. John matriculated with a PhD in 1991 and remained in Hanover while his wife Sandra finished medical school at Dartmouth. They then moved to Salt Lake City, UT in 1992 and John worked as a post-doctoral fellow on acquisition and storage of iron in mammalian cells. In 1995 John became an assistant professor in the Department of Medicine, Hematology/Oncology Division and there was introduced to the Porphyric diseases. John has been working in the heme biosynthesis field for the past 23 years focusing on the Porphyrias. The Porphyrias are rare diseases in which one of the eight steps in heme biosynthesis is defective. During this time, he has been defining transcriptional, translational and post-translational mechanisms that regulate heme biosynthesis while working with Dr. James Kushner. John has a long history of productive collaboration with researchers in this field and has been funded continuously for his work in the Porphyria field. In 2010 he took responsibility as the principle investigator of Utah site for the Office of Rare Disease and National Institutes of Health (NIH)/Rare Disease Clinical Research Network (RDCRN) funded Porphyria Consortium, when Jim Kushner retired. He is also the principle investigator of the Center for Iron and Heme Disorders, a National Institute of Diabetes and Digestive and Kidney Diseases (NIDDK) sponsored program to expand the support for researchers nationally working in the erythropoiesis field. John is an active participant in the Porphyrias Consortium and works closely with the American Porphyria Foundation engaging in research studies on the different Porphyrias as well as training the next generation of Porphyria experts.
Dr. Phillips is now a Professor in the Department of Medicine, Hematology Division and administratively is the Director of the Health Sciences Center Core facilities at the University of Utah, a conglomerate of 19 recharge centers that serve the basic science, translational science and clinical science needs of the faculty of the Health Sciences Center as well as the greater research community of the University of Utah. He is also the Director of the Cell Therapy and Regenerative Medicine Facility at the University of Utah School of Medicine. This group produces all of the cellular products for bone marrow transplant and provides cellular therapies directed at hematologic disease. This provides the needed access to technologies for the expansion of CD34+ cells along the erythroid lineage. When not working on these issues he is solving space and infrastructure issues in his role as Associate Dean of Research and Infrastructure for the University of Utah Health.